There are two projects I've discovered that make me feel proud of what we can do as human beings when motivated by love and compassion. One is Quixote Village in Olympia Washington and the other is Mobile Loaves and Fishes in Austin, TX, in general, but specifically their Community First! program.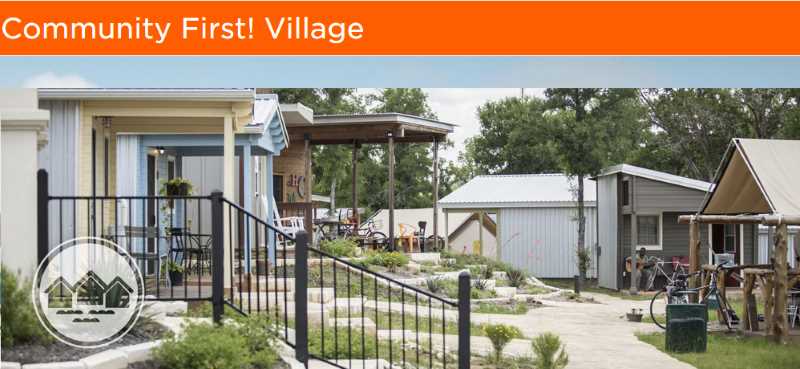 I wanted to share these two links right at the outset so you can learn more about the great things people are doing to help poor and homeless people, rather learning on the news about how our politicians and business leaders are conspiring to rob working people, take away the most basic social safety nets, and destroy financial and environmental protections in the name of greed.
These stories are about the opposite - people more concerned with taking action to help the least powerful in society with a hand up, than helping themselves with both hands. I feel my faith in humanity restored just knowing there are people in the world who choose to work in service of the poor and powerless, without seeking any personal benefit, other than the satisfaction of being of service to those in need. Sometimes human beings are truly beautiful and noble creatures.
I met Bill Arensmeyer in Jarell Cove State park outside Shelton, WA, where he and his wife, Sherrel, were working as camp hosts in April 2017. Little did I know that he was a driving force behind the formation of Quixote Village in Olympia, WA, a tiny house community designed to serve the homeless. I had learned of Quixote Village prior to leaving my home in Texas on a quixotic mission of my own, so it was quite the coincidence that I happened to strike up a friendship with the guy who was instrumental in its formation at the very beginning. Sometimes the Universe smiles on a seeker.
Here is the story:
In 1992, Bill Arensmeyer was working as an associate minister with the Unitarian Universalist Church in Olympia, WA. He had set up a food bank program that supplemented the non-perishable canned and dry goods of the existing food bank with fresh produce and other perishables from generous local grocers. This program was delivering about $260,000 worth of food a a year to area recipients. Bill was involved in this program for about 14 years.
In 1993, he got a call about a family living in a chicken coop with two sick kids. Bill drove out to check up on them and discovered the boys both had pneumonia, so he loaded up the family of four and took the kids to a doctor for treatment and then took them to the church parsonage which was vacant at the time. In the days to come Bill connected the family with the Family Support Center in Olympia where they found more permanent housing. In a few days, the Family Support Center called saying they had two more families needing temporary shelter and could they perhaps use the parsonage as well? Not one to say no to people in need, these families were also accommodated and a new chapter was begun - Out of the Woods, a shelter for single women and women with children was set up in the 5 bedroom, 2 bath parsonage.
As word spread of this new shelter, the population swelled. Bill got the county jail to provide some surplus sleeping mats and there were up to 50 people under roof some nights. To their credit, the city official in Olympia were willing to allow a bit of latitude on certain city occupancy codes in light of the humanitarian nature of the mission, but it was necessary to install a fire suppression sprinkler system and other facilities to accommodate the increased population.
Fast forward to 2007. A city ordinance in Olympia made it illegal for people to sit or lay on the sidewalk which caused a group of indigent people to assemble in protest in a tent city in a downtown parking lot. A standoff was developing between the police and the tent city dwellers when Bill offered a solution - set up the tents on church grounds as a sort of sanctuary. This worked in the short term, but city officials decided that this tent city could only occupy a specific site for 90 to 120 days.
Undaunted, Bill contacted other area churches and got some of them to agree to serve as host for the traveling tent city. Camp Quixote was born.Contrary to what one might expect, the effect of having this tent community in the host communities was positive, both in terms of reduced trash and litter (residents were encouraged to pick up trash in host neighborhoods as a sort of "payment" in consideration of allowing them to stay), and in terms of crime. Any solo transients in the area were greeted by camp members and advised that any crime or vandalism they might commit would not be looked on favorably by the group and I suppose there was an implied threat of repercussions. Eventually, even the chief of police volunteered to help pitch the benefits of hosting the tent village to neighborhood committees because he had seen firsthand the reduced crime rates.
Another interesting development was the addition of portable 8'x8' tiny houses. Each wall consisted of two 4'x8' sheets of plywood framed with 2x2 lumber drilled to be bolted together. A gable roof assembly, also of 4x8 sheets of plywood topped the structures and thus an 8x8 portable shelter that could sleep 2 comfortably was built for about $200 at the time. These were a great improvement over tents, especially in windy, rainy conditions so common in Thurston County Washington winters.
Eventually, people who value order and decorum asserted their wills to change the priorities of both the Out of the Woods women's shelter and Quixote Village tent city. The number of women and children housed under the roof at Out of The Woods was reduced, to "elevate the standard of living for those in its care" and it was resolved that instead of tents, a village of Tiny Houses should be built for the same reason. Nobody could argue that more space is better, or a Tiny House is better than a tent, but the numbers of people helped went down drastically. Additionally, both places became "low threshold" facilities in which drinking and/or drug use was grounds for exile. Formerly, the policy was drinking or drugging on premises was forbidden, but being under the influence was not punished, unless it led to anti-social behaviors. Obviously, such policies reduced the numbers of people being helped. It might also be noted that a person with a drug or alcohol problem is not as likely to get into a recovery program if they're cast out on their own.
Two more spin-offs of Quixote Village are planned for Washington state. Called Tiny House Justice, they will both focus on homeless veterans. We can all agree that it's a disgrace the way our returning soldiers are treated. Plenty of time and effort goes into training them to kill and destroy - shouldn't at least an equal amount of attention be paid to helping them re-assimilate into society?
A larger issue arises though - does one have to serve in the military to be worthy of a modicum of support in our nation? Community First has a great saying, "Goodness has a building code: Everyone sleeps inside."
Anybody who believes it is in the interest of our nation's economic health, leaving out spiritual concerns entirely, to have people cast adrift to fend for themselves in a land of plenty, must be actively conjuring reasons why this is justified. Rather than setting our minds to the task of rationalizing why the sick and homeless deserve what they get, couldn't we turn our attention to figuring out ways to make such suffering unnecessary?